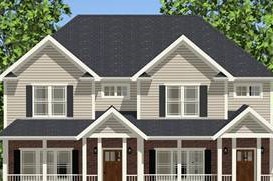 Multi-family homes in Eugene, Oregon provide choices to residents who are looking for starter homes, or even for those looking to downsize. They provide a smaller footprint for those who don't need big yards or want lots of space. Multi-family homes are smart options for accommodating a growing population. They offer viable and positive solutions for communities with housing shortages, and they are a powerful investment opportunity for forward-thinking investors.
Eugene is facing the fate of Portland and San Francisco, where it's becoming more and more difficult to afford to a home. Even if you find a home, buyer competition is so extreme that houses are often contracted within just a few days of listing, sometimes hours! Multi-family housing units present another option for buyers to compete in a seller's market.
Residents are looking for options between the traditional single-family home and very large apartment complexes. Variations that bring interest are townhouses, duplexes, triplexes, courtyard housing, and cottages. There is also much interest in living between the suburban and urban areas. Privacy and safety meet proximity to recreation and entertainment in demographic delineations that hold new appeal.
Millennial Interest
Americans born after 1980 are becoming more interested in owning homes, but their interests are decidedly different than previous generations. They are devoted to technology and modern amenities, but they are also pushing the drive for more common areas in their living spaces, including common lobbies in entrance areas and even exploring shared kitchens and bathrooms in apartment living. These changes in accommodations will fuel future building projects and challenge remodelers.
Urban Lifestyle
Millennials aren't the only ones who desire modern amenities and social comforts. Empty nesters and singles also enjoy the creature comforts and safety of multi-family homes. Low maintenance home care and walkable neighborhoods are appealing to many who have lived the suburban life and are looking for freedom from the burden of being responsible for home-work.
Walkable Neighborhoods
The natural beauty of the Willamette Valley makes it a prime area for outdoor activities. Residents can get outside and move with nature with homes within walking distance of local parks and recreation. Walkable communities encourage destinational walking as well as recreational walking. They also encourage close proximity to work and shopping, and usually have sidewalks built to safely connect walkers to destinations. Multi-family homes in Eugene, Oregon will get more people closer to the social interests in our area.
Generous Amenities
Expensive luxury perks like pools and gyms are often found in multi-family units. Costs for these shared benefits are built into the cost of the lease or fees paid for the group, such as condo fees or homeowner association fees. Amenities such as bike storage, child care, pet care, spas, yoga classes, and much more are gaining a following in shared living.
Shared Expenses
Expenses such as pest control, lawn maintenance, and landscaping are more economical when shared among homeowners and tenants. Security systems and lighting can be shared, too, making safety in numbers more practical.
Maximizing human connection can be achieved with the shared living of multi-family property. These homes not only provide security and community, they are low-maintenance and they are usually close to retail, restaurants, and other social opportunities.
Opportunities for home ownership abound in Eugene! Explore all your options and then get down to business with a property expert!