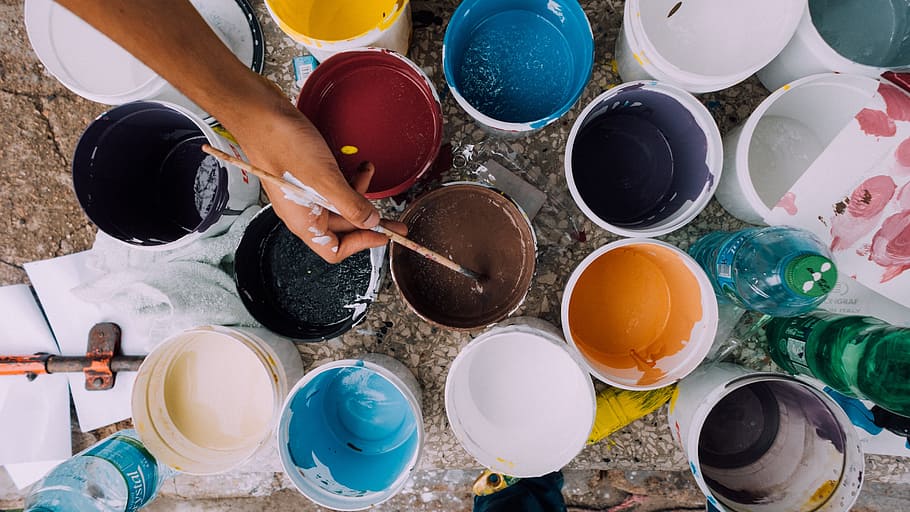 Kitchens sell homes, and cabinets make kitchens pop. In the first article of a multi-part series about kitchen cabinets, we're going to talk about staining your wood cabinets versus painting them.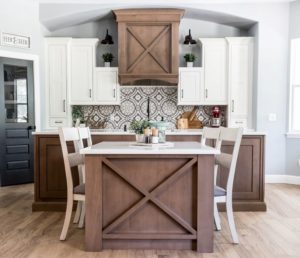 There's no wrong answer to the question of painting or staining your kitchen cabinets. You can even pair up the finishes to create something unique. It's purely personal and if it's done correctly, your choice will enhance your kitchen, making it a focal point of your home when and if you decide to sell.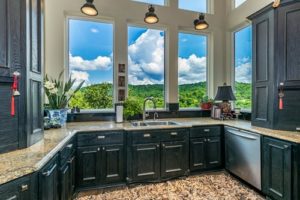 Painted Cabinets
Painted kitchen cabinets are exceedingly popular these days. Painting is a quick way to modernize the look of a kitchen, providing a contemporary feel to an old space. With the benefits of hiding wood blemishes and disguising dust and dirt, paint offers an easy alternative to updating a kitchen. There are endless options to paint, from sunny yellow to subtle cream to stately gray or smooth teal, the choice of paint is yours.
Before painting cabinets, consider the material you're painting. If you're starting from scratch, plywood and medium-density fiberboard (MDF) offer budget-friendly choices and both materials are particularly suited to finishing with paint. If your heart is in natural materials, poplar and alder are good wood choices for holding paint as both have straight grain and even texture. Ultimately, however, you can paint any wood. The trick with heartier grains like hickory, knotty pine, and other woods with dramatic knots and grain patterns is to use a good wood filler and primer before painting.
Paint Pros:
Multiple color options provide higher customization
Hides wood imperfections
Cheaper than replacing old cabinets or stripping and re-staining
Offers a clean aesthetic
Currently in-style and popular in new homes
        Paint Cons:
Pricier than stain because you'll need more of it for proper coverage
If paint sprayed by a professional, touch-ups can be hard to blend into finish
Paint can absorb oils and food, marring the finish
Maintaining painted finish requires more attention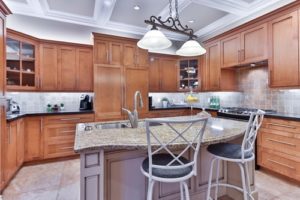 Stained Cabinets
 For a classic look, stained cabinets remain stylish and popular. Stain enhances the wood species' grain and natural characteristics, such as knots and striations, allowing for dramatic allure in your kitchen. Popular wood choices that lend well to stain include hickory, oak (red and white each boast beautiful grain), cherry, red birch, maple, mahogany, and beech.
Wood stains come with fewer choices than paint, but stain colors enhance the natural beauty of wood. Adding a finish such as a satin or glossy varnish complements the final look of your kitchen cabinets. Because wood absorbs stain, materials such as plywood and MDF do not lend themselves to stain or varnish, so your best bet is to paint cabinets made of those materials.
Stain Pros:
Enhances wood's natural characteristics
Traditionally stylish and affords a classic look
Less expensive than paint
Easier to apply than paint
Easy touch-up
Long-lasting finish
        Stain Cons:
Doesn't work well with man-made cabinet materials
Limited color and varnish finishes
Can't hide major cabinet defects
Daker stains won't hide dust and dirt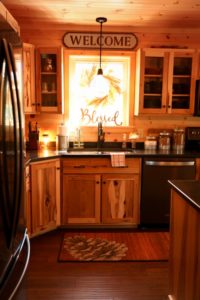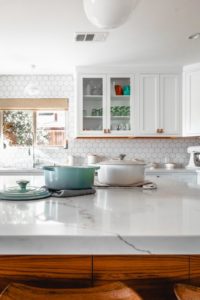 The Bottom Line
There are no wrong choices when it comes to finishing kitchen cabinets. The sky is almost the limit for color and finish. Stop by your local paint store to compare paint colors, including finishes like satin or glossy, and to check out available stains and varnish. Do an internet search for kitchen cabinet images and compare other kitchens to your own, find out what you personally like and what might work better in your home. Decide whether you can take on revamping your kitchen cabinets on your own or if you'll hire a professional to do the work for you. Let yourself have fun with the decision process!
We'll offer more information about painting your cabinets later in this series, but next up, we'll discuss and compare wood species to help you in your journey of updating your kitchen.