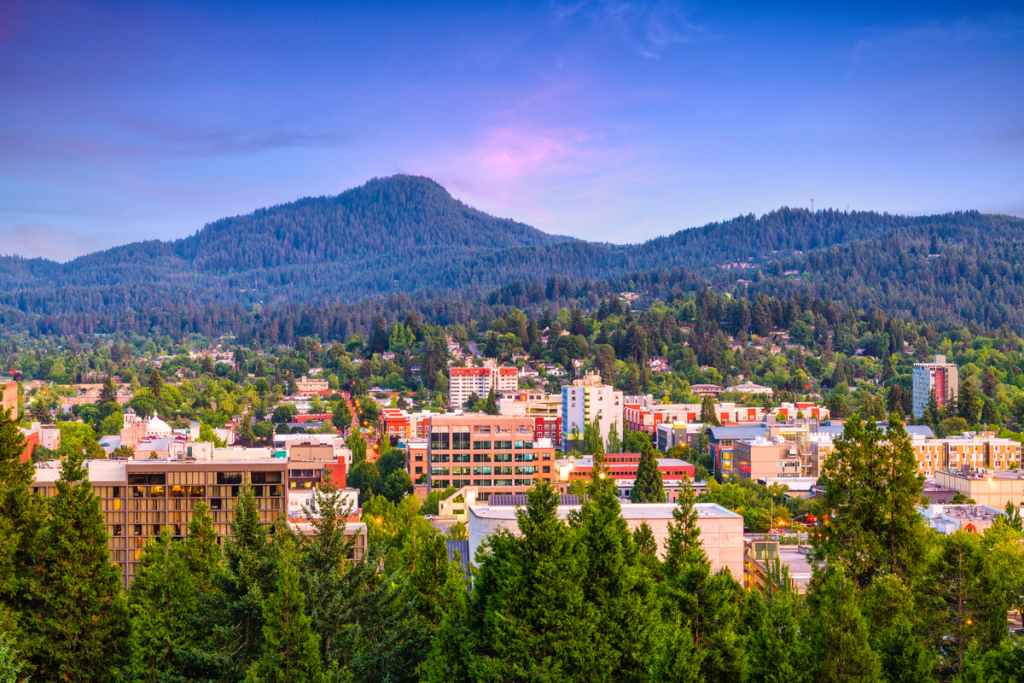 Affordable housing is increasingly hard to find in many housing markets across the nation. Some markets are improving, to be sure, but many more are still struggling to with affordability for the average home buyer.
NerdWallet recently released 2018 fourth quarter home affordability pricing information for medium-size metro areas. Topping out the most affordable housing was the Toledo, Ohio metro area, with a medium home price of $97,500 and Peoria, Illinois at $131,300.
The top four markets on the least affordable housing list were Honolulu, Hawaii at $818,600, Boulder, Colorado at $604,200, the Naples, Florida region at $425,000, and Reno, Nevada at $385,800.
Eugene, Oregon finds itself at number five on the list of least affordable housing, a median home price of $302,700. Home prices in the Eugene area rose 8.7% in the twelve months between September of 2017 and September of 2018.
Factors Leading to the Price Crunch in Eugene
New construction of lower-end homes is not keeping up with local demand in Eugene. This includes builders building larger complexes rather than smaller-sized single family homes and city council addressing issues that would increase the availability of land and urban expansion. They're working on the housing shortage, but the process is excruciatingly slow and it's not keeping up with the demand for homes at this price point.
Rapidly rising prices for mid-level homes. First-time home buyers are competing with retirees looking to downsize. Both are looking for homes at the same price point, making competition fierce for all.
People are not leaving Eugene. Interest in living in Eugene continues to increase, with reasons as varied as food, wine, breweries, environmental concerns, varied outdoor activities with a scenic backdrop, and let's not forget that awesome university right next door. The reasons folks want to move to Eugene are mostly the same ones folks don't want to leave Eugene.
Finding Affordable Housing in Eugene
There's not much the typical home buyer can do about the home inventory shortage in Eugene, or anywhere, for that matter. There are, however, some solid steps to take in preparation of buying a home.
The time to ready yourself for home ownership in Eugene started yesterday. Or possible last year. The fact is that because of limited inventory, homeowners are facing aggressive and even cutthroat competition for existing homes.
There are steps that can provide an edge:
Save, save, save. Affordable housing in Eugene is going to be hard to come by for at least another year or two. Be prepared to jump on a home when it hits the market by saving as much as you can. The more you can offer or put down on a home, the more likely you'll come out a winner in the bid for a home.
Take time to build a credit A-game. Look at credit reports and scores. Start cleaning up any discrepancies and righting any missteps. Unless the plan is to pay cash, top credit will be necessary to secure the best financing at the best interest rates.
Start shopping for a lender. Talk to all of them and work to have a loan as much in place as possible before looking at homes.
Be flexible. Broaden your search. Keep an eye on homes that might be out of your original vision. You might overlook a hidden gem if you won't reconsider neighborhoods and locales. Location, location, location has become an antiquated slogan for hot markets like Eugene. If a home isn't as close to a school or job as you'd like, consider the real impact of driving a few more miles compared to finding a great home to make your own.
Bottom Line
Everyone wants to live in Eugene, including you! It's a great area with much opportunity. While affordable housing might be hard to find at first look, your reward will be security and savings in a hot housing market that's not likely to cool down anytime soon.