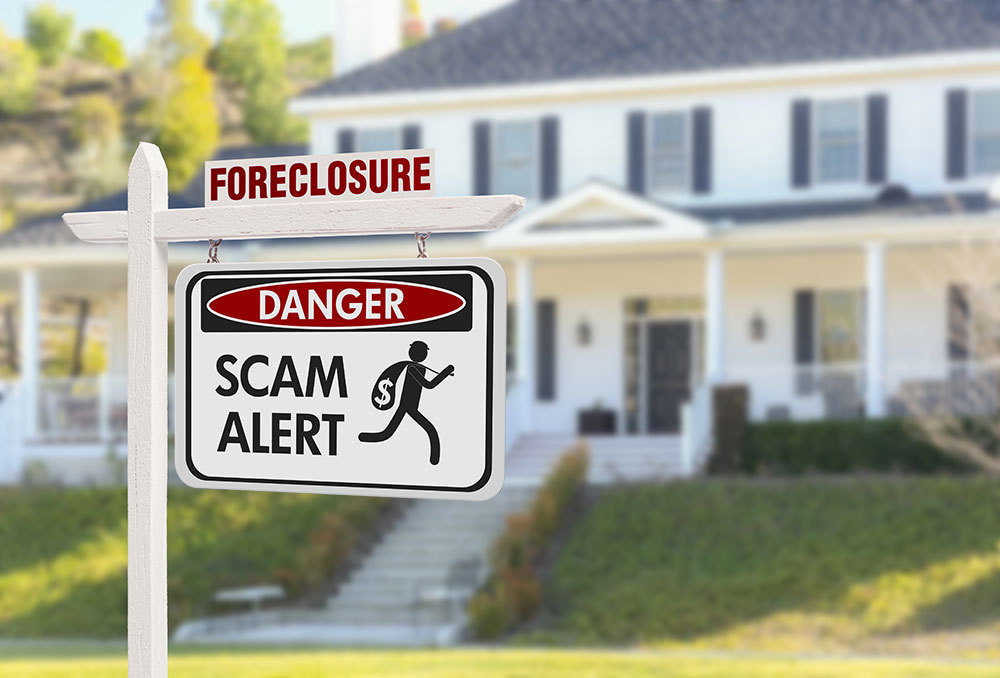 Facing foreclosure is frightening enough on its own, but were you aware of the many scams that target homeowners during this stressful time? Foreclosure rescue and mortgage modification scams are a growing problem and they are so serious that they can cost you your home if you are a victim.
Scammers promise you they can save your home or lower your mortgage payments for a fee. They call themselves Foreclosure Consultants or Specialists but they are really predators of the worst sort.
Foreclosure scammers find you when your mortgage company files your foreclosure notice to the local court or trustee. From there, they attempt contact with you via mail or phone to "assist you" when you're facing foreclosure.
There are many different scamming tactics, and they are growing by the day. Here's just a few to look out for:
Equity Skimming or Stripping
In this scam, someone calling themselves a mortgage investor or representing a mortgage company approaches the homeowner and proposes to help the homeowner out by purchasing the property before the bank forecloses. The "investor" will advise the homeowner to transfer the property title as security for a new loan and will also advise the homeowner to stop interacting with the original mortgage company. Sometimes the "investor" will suggest that the homeowner move out of the home. They will then move someone else in, collect rent, and never pay the mortgage as promised. If there is any equity in the home, the scammer can also siphon that off by selling the home or refinancing it with a new mortgage, keeping the profit. The homeowner loses the home but still has a mortgage in foreclosure. Signing a deed over to a third party does not relieve a homeowner from their mortgage obligation.
Phony Counseling Agencies
Homeowners should beware any contact from an agency that offers to help them for a fee when facing foreclosure. An agency may offer to contact the lender and negotiate better terms or to hold or reduce payments. Homeowners can contact their lenders directly at any time up to the final legal repossession to seek help with foreclosure. Additionally, there are many foreclosure counseling services available to homeowners for no fees. Contact HUD or Making Home Affordable for additional information on foreclosure counseling. Homeowners may also contact their mortgage lender directly for assistance as most lenders have free counseling on staff for those facing foreclosure.
Internet and Phone Scams
In this scam, phony lenders will contact a homeowner by phone or via email to offer help with foreclosure. They will attempt to convince the homeowner to refinance with them for a low-interest loan. They will collect sensitive information such as social security numbers, date of birth, employment information, and banking information. Instead of foreclosure assistance, the homeowner gives up personal information and, in some cases, money, to unscrupulous individuals who steal their identity while still leaving the homeowner at risk of foreclosure.
Help When Facing Foreclosure
Homeowners have many choices when facing foreclosure. The fastest way to get help is to contact your mortgage lender directly. It's in a lender's best interest to save a mortgage. Lenders have dedicated departments of specialists to assist troubled homeowners.
Homeowners may also contact the Federal Trade Commission for additional information on saving their home.
For homeowners who want to sell their homes when facing foreclosure, there's reputable assistance available locally. With due diligence, homeowners can find local real estate agents and investors who can assist with marketing or a direct sale.