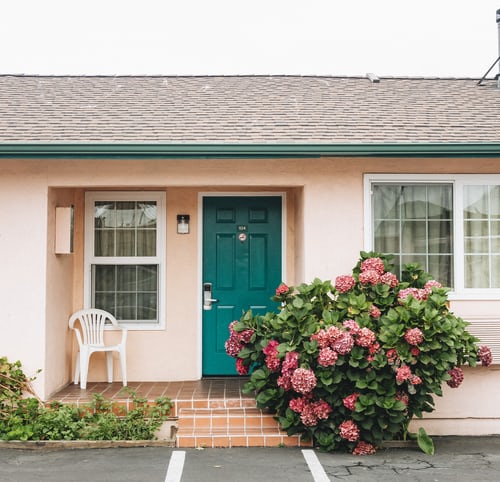 Though it's still a strong seller's market here in Eugene, that doesn't mean you can't spruce of your home appeal. Homes may be flying on and off the market here, but you still have opportunity to make improvements to help secure the best buyer at the best price for you.
Making your home as inviting as possible to buyers boosts your ability to sell your home quicker and for more money. Check out our simple tips for making the most of your home appeal and finding the right buyer fast!
First Impressions Matter
The first thing anyone sees when they visit your home is your front yard and entrance. Your home's curb appeal can sell your home fast, if you know how to showcase your home. Take time with some simple landscaping tricks to make the most of your home's curb appeal.
Keep the grass mowed and tended. Fill in bare spots with grass seed and water your yard often to keep it green. Trim bushes, shrubs and trees, and keep them neat. Add flowers wherever you can. From mulched flower beds and sculptured walkways, to hanging baskets on the porch and window boxes, flowers add an instant punch of color that welcome visitors to come inside to see more.
Paint your porch and clean any porch furniture. Add warm cushions to rocking chairs and porch swings. Scrub the front porch and add a fresh coat of paint to the posts and floor. Repair any broken or cracked siding or fixtures. Freshen up your house numbers and mailbox. Paint your front door or replace it if it's showing wear and tear. Clean the windows until they sparkle.
Capture Your Home's Appeal with Your Camera
Keep in mind that the first time many prospective buyers area going to see your home is online. Make sure each picture captures the subject area in the best light of the day. Open drapes to make the most of every space you photograph. Don't forget to do the same for outside pics.
Be objective when you review your photos. Try to see them as a prospective buyer would and remove anything that distracts you from home appeal. Bicycles, gardening equipment, debris, even grills and trash containers. Remove or creatively hide maintenance equipment from immediate view.
Clean Everything!
Clean your home inside and out, every window, wall, closet, surface, and floor. Strive to keep it spotless. Wash or replace curtains and drapes. Deep clean all carpets and tile, scrubbing grout and vacuuming woodwork. De-clutter laundry and storage areas.
Paint walls in light, bright colors. If wall paper is discolored or peeling, remove it and either replace it or paint the wall. Don't forget ceilings! Clean light fixtures and ceiling fans until they sparkle. Replace outlet and light covers with new ones. Consider painting cabinet doors or replacing hardware on cabinets and drawers.
Don't forget the bathroom! Scrub that shower and grout until it glows and then keep it that way. Paint vanities, shine all fixtures, and pay attention to every detail that a buyer will notice.
It may be inconvenient for a short time but make your home look move-in ready to prospective buyers. The idea is to create space where they can see their possessions fitting into the space.
The Bottom Line
You're going to sell your home, there's no doubt about that. But why wouldn't you take a few extra steps to ensure you get the best buyer and sell at the best price? You can go as big or as small as you want. Details matter as much as big changes. Keep it clean and keep it simple, and you'll sell for the price you want in no time!