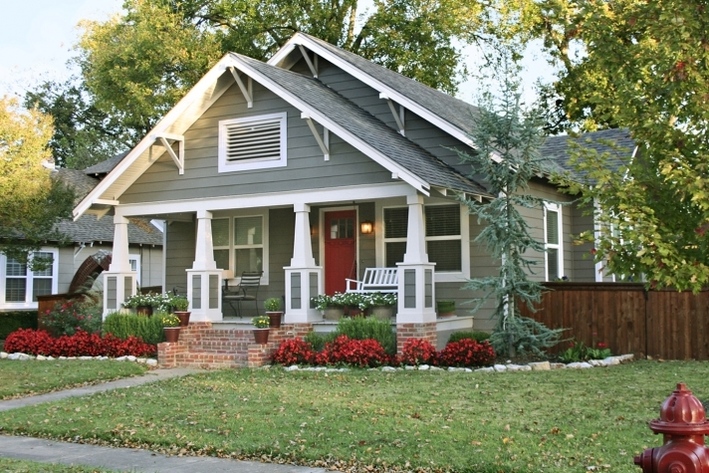 If your home's curb appeal makes a great first impression, you're likely to sell it fast and for the listing price. Spring has sprung all around us and it's the perfect time to spruce up your yard and your flower beds and add some interest to your home's exterior.
It doesn't take a lot of money to make a big difference in your home's curb appeal. Small details make an impression if you follow a few simple rules. Keep it simple, keep it close, and keep it clean for curb appeal you can take to the bank!
Make Your Home Sparkle!
The easiest and fastest route to an impressive entry is to clean everything until it shines. If you don't have a power-washer, you can rent one at your local hardware store. Pay attention to your home's siding. Use a strong industrial detergent made for the power-washer, and start at the top of the house, working yourself down. Don't forget shutters and entrance doors. Next, focus on the porches and then the sidewalks and driveway. Wash all windows, inside and out. Pull screens and scrub them with a soft brush and a mild detergent.
A Grand Entrance!
Your home's curb appeal will instantly improve when you focus on a cheerful and welcoming front door. Your front door is the focal point of your home, beckoning friends and loved ones to your abode. After a good cleaning, consider a new paint job. Using a bright color will really perk up the front of your home. Add lighting and decorations that highlight your door, such as plants, planter boxes, wreaths, and small sculptures. Don't forget about the porch. If you have a wooden porch, check the paint job and give it a fresh coat if it needs it. Add a couple rocking chairs or a porch swing for comfort. Add a small table with a plant for interest. Your goal is to create an inviting entrance to your home.
Arrive with Class!
Edge your driveway with pavers, stone brick, or flowers for a crisp, manicured look. If your driveway is gravel, replenish it to fill in any bare spots or pot holes. If it's paved or concrete, pay attention to cracks and holes, and have them repaired. Consider adding lighting, either spot lights along the driveway or maybe lantern poles at the entrance to the driveway.
Car Haven!
Don't forget to check out your garage. If it's attached, you've probably already spruced it up when cleaning the exterior of the house. If your garage is detached, look at it critically and add some of the same perks as you did with your porch. Add flowers around the entrance door or maybe some pavers to the stoop of the side door. If your big garage door needs a paint job, then spruce it up. If it's seen better days, replace it.
Bring the Flowers!
Adding flowers to existing beds, planter boxes, and pots brings welcome brightness to your home's curb appeal. Planting annuals is a fast way to add instant loveliness to your home's front yard. Add mulch to your flower beds after planting for a manicured look. Stones and brick are a quick way to edge the beds. Add big flower pots to porch steps and a few hanging baskets for more interest to the porch.
Backyard Paradise!
Although not normally visible from the front, don't forget to include a complete backyard manicure with flower pots, leafy perennials, and stoned-edged walkways. Clean up lawn furniture and barbeque areas. Map out natural gathering areas with stone pavers and add cushions to seating and install spot lighting to brighten the yard.
Have Fun with It!
You don't have to spend a fortune to improve curb appeal. Simple additions and common-sense maintenance can create dramatic interest in an otherwise dull exterior. Focus on clean and add pops of color to brighten your home and welcome potential buyers.