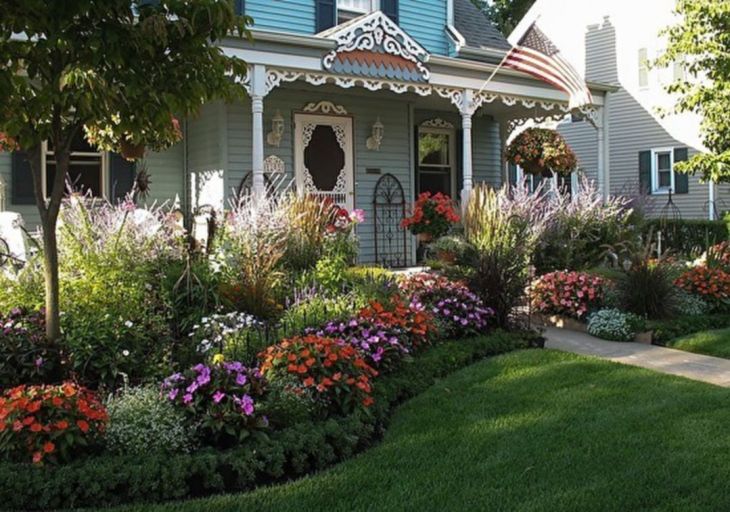 First impressions matter, especially when it comes to selling your home. Your home's exterior appeal plays a major role in piquing a buyer's desire to learn more about your property. It's a subjective appreciation that you must market to sell for the best price. In short, you want to make your property the envy of the neighborhood.
It may still be winter, but spring is around the corner and now's the time to invest in your home's first impression to buyers. Improving your home's curb appeal adds value and there's no doubt it will help you sell your home faster. What should you focus on? Landscaping, roofing, and porch appeal all lend a hand in making your home a beautiful asset that buyers want.
Landscaping
Landscaping improvements can be simple or complex, it's really up to you. The bare minimum should be healthy, well-maintained grass and trees. Regular maintenance like watering and feeding often cures any grass issues such as brown or yellow spots or weed issues. If not, then re-seeding works like a charm to improve the lawn. Trim any bushes and if they're not healthy, replace or remove them. Update the mulch around all the plants and trees in your yard. If you want flowers, by all means plant them, but make sure to maintain or remove exhausted perennials and all annuals are well-watered, fed, and pruned. Don't forget about the backyard, either. Make your backyard a haven for family and fun. Same rules apply to the backyard as did the front. Add flower pots and leafy perennials and clean up the patio with a power wash or add a stone walkway to make a bright and inviting outdoor area.
Physical Exterior and Roof
It's not necessary to spend a fortune on your exterior, but you may want to consider replacing a worn roof or outdated siding. If you can afford it, keep in mind that you can easily recoup your investment if you update your home's exterior. Buyers calculate all the expenses they'll have to make their new home attractive and livable, so not having to immediately replace a roof is a big plus when buying. Same rules apply to siding, windows, and doors. Painting could work as a quick and fresh look, but that of course depends on condition. If your siding is old or outdated in style or color, consider investing in fresh paint, if it's wood, or install new siding. Paint entrance doors and window sashes, too, if possible. If your windows are hopelessly outdated, you might want to consider new ones.  If you have a porch, make it as inviting as possible. Paint if it needs it, spruce up any outdoor furniture with new paint or cushions, and add some potted plants. Add new house numbers and a mailbox if the current ones are missing, outdated, or otherwise in poor condition.
The Bottom Line
You never have to spend more than you can afford but sprucing up your home's exterior will reward you with a higher selling price, as well as introducing a well-maintained property to potential buyers. Investing in time, money, and sweat equity for your home's curb appeal will create a lasting first impression you can't afford to miss.